Musica de Panic! At The Disco
Escuchar Musica de Panic! at the Disco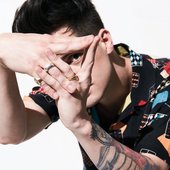 Musica de Panic! at the Disco. Aquí puedes encontrar recursos de musica como pueden ser letras de canciones de Panic! at the Disco, noticias, videos de musica, las mejores imágenes de Panic! at the Disco, así como artistas pertenecientes a la misma categoría de musica. Puedes acceder a cada una de las secciones de la música de este artista oprimiendo sobre el título de cada cuadro o directamente sobre los videos , letras de canciones , imágenes o noticias de Panic! at the Disco. Panic! at the Disco, es una banda formada en Estados Unidos que mezcla sonidos como el Rock, el Techno, el Folk y el Indie. Actualmente Brendon Urie es el único integrante fijo de la banda, tras anunciarse el 6 de julio de 2009 la partida del guitarrista y compositor Ryan Ross y el bajista Jon Walker a causa de diferencias en preferencias musicales y más tarde la de Spencer Smith para iniciar un tratamiento de rehabilitación, Originalmente, Panic! ...
Musica de Artistas Similares
La Música y los recursos necesarios sobre Panic! At The Disco están aquí. Busca tu música preferida utilizando nuestras opciones de búsqueda o a través de los links de videos, temas, imágenes, noticias y artistas similares. Todo sobre Panic! At The Disco . Tenemos segmentos diferenciados para cada uno de estos recursos musicales. también puedes acceder a nuestros rankings de música por país y por nombre del artista además de las categorías de música que se acceden mediante el link debajo del buscador de música.