Musica de Rocky Sharpe And The Replays
Escuchar Musica de Rocky Sharpe & The Replays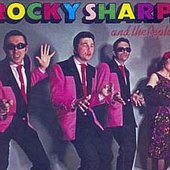 Musica de Rocky Sharpe & The Replays. Aquí puedes encontrar recursos de musica como pueden ser letras de canciones de Rocky Sharpe & The Replays, noticias, videos de musica, las mejores imágenes de Rocky Sharpe & The Replays, así como artistas pertenecientes a la misma categoría de musica. Puedes acceder a cada una de las secciones de la música de este artista oprimiendo sobre el título de cada cuadro o directamente sobre los videos , letras de canciones , imágenes o noticias de Rocky Sharpe & The Replays. Rocky Sharpe inicia su carrera musical con el grupo The Razors en 1972, en los pubs de Sussex en Inglaterra, aunque llegaron a actuar en Radio London y hacer algunas giras por Holanda, no llegaron a tener el éxito suficiente como para dejar de ser semi-profesionales. Así que, disuelto el grupo, los hermanos Robert y Jan Podsiadly (Rocky Sharpe y Johnny Stud) respectivamente continuaron sus respectivas carreras. Con la idea de interpretar los clásicos del Rock and Roll lo vuelve a intentar en 1979 ...
Musica de Artistas Similares
La Música y los recursos necesarios sobre Rocky Sharpe & The Replays están aquí. Busca tu música preferida utilizando nuestras opciones de búsqueda o a través de los links de videos, temas, imágenes, noticias y artistas similares. Todo sobre Rocky Sharpe & The Replays . Tenemos segmentos diferenciados para cada uno de estos recursos musicales. también puedes acceder a nuestros rankings de música por país y por nombre del artista además de las categorías de música que se acceden mediante el link debajo del buscador de música.