Musica de The Academy Is...
Escuchar Musica de The Academy Is...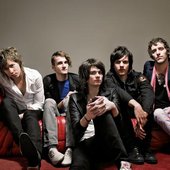 Musica de The Academy Is.... Aquí puedes encontrar recursos de musica como pueden ser letras de canciones de The Academy Is..., noticias, videos de musica, las mejores imágenes de The Academy Is..., así como artistas pertenecientes a la misma categoría de musica. Puedes acceder a cada una de las secciones de la música de este artista oprimiendo sobre el título de cada cuadro o directamente sobre los videos , letras de canciones , imágenes o noticias de The Academy Is.... The Academy Is… fue una banda de Indie Rock / Rock Alternativo proveniente de Hoffman Estates, un suburbio de Chicago, formada por el vocalista William Beckett, los guitarristas Mike Carden y Michael Guy Chislett, el bajista Adam T. Siska y el batería Andrew Mrotek, más conocido como The Butcher. La banda nació en el año 2003 a partir de la unión de Beckett y Carden el año anterior, ambos pertenecientes a bandas rivales de la escena musical de Chicago. ...
La Música y los recursos necesarios sobre The Academy Is... están aquí. Busca tu música preferida utilizando nuestras opciones de búsqueda o a través de los links de videos, temas, imágenes, noticias y artistas similares. Todo sobre The Academy Is... . Tenemos segmentos diferenciados para cada uno de estos recursos musicales. también puedes acceder a nuestros rankings de música por país y por nombre del artista además de las categorías de música que se acceden mediante el link debajo del buscador de música.