Escuchar Musica de The Fluid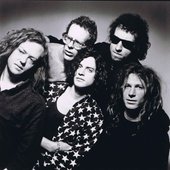 Musica de The Fluid. Aquí puedes encontrar recursos de musica como pueden ser letras de canciones de The Fluid, noticias, videos de musica, las mejores imágenes de The Fluid, así como artistas pertenecientes a la misma categoría de musica. Puedes acceder a cada una de las secciones de la música de este artista oprimiendo sobre el título de cada cuadro o directamente sobre los videos , letras de canciones , imágenes o noticias de The Fluid. Originalmente era conocido como Madhouse hasta la llegada del vocalista John Robinson, su primer disco se publico en 1986, Punch N Judy. Albums * Punch N Judy (1986) (Rayon & Glitterhouse) * Clear Black Paper (1988) (Glitterhouse & Sub Pop) * Freak Magnet EP (1989) (Glitterhouse) * Roadmouth (1989) (Sub Pop & Glitterhouse) * Glue (1990) (Sub Pop & Glitterhouse) * Purplemetalflakemusic (1993) (Hollywood) Singles * Tin Top Toy b/w Tomorrow 7" (1989) (Sub Pop SP57) ...
Musica de Artistas Similares
La Música y los recursos necesarios sobre The Fluid están aquí. Busca tu música preferida utilizando nuestras opciones de búsqueda o a través de los links de videos, temas, imágenes, noticias y artistas similares. Todo sobre The Fluid . Tenemos segmentos diferenciados para cada uno de estos recursos musicales. también puedes acceder a nuestros rankings de música por país y por nombre del artista además de las categorías de música que se acceden mediante el link debajo del buscador de música.