Musica de The Pineapple Thief
Escuchar Musica de The Pineapple Thief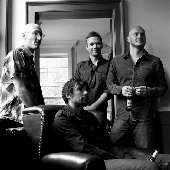 Musica de The Pineapple Thief. Aquí puedes encontrar recursos de musica como pueden ser letras de canciones de The Pineapple Thief, noticias, videos de musica, las mejores imágenes de The Pineapple Thief, así como artistas pertenecientes a la misma categoría de musica. Puedes acceder a cada una de las secciones de la música de este artista oprimiendo sobre el título de cada cuadro o directamente sobre los videos , letras de canciones , imágenes o noticias de The Pineapple Thief. The Pineapple Thief es un grupo británico de rock progresivo creado por Bruce Soord (conocido por bandas como Vulgar Unicorn), esta agrupación denota influencias de grupos como Porcupine Tree y por el lado más pop de los Smashing Pumpkins. cuenta en su trayectoria con 4 discos «Abducting The Unicorn» de 1999 su álbum debut con excelentes canciones resaltando «Drain» una canción de rock progresivo con melodía pop añadida por la voz de Soord ...
Musica de Artistas Similares
La Música y los recursos necesarios sobre The Pineapple Thief están aquí. Busca tu música preferida utilizando nuestras opciones de búsqueda o a través de los links de videos, temas, imágenes, noticias y artistas similares. Todo sobre The Pineapple Thief . Tenemos segmentos diferenciados para cada uno de estos recursos musicales. también puedes acceder a nuestros rankings de música por país y por nombre del artista además de las categorías de música que se acceden mediante el link debajo del buscador de música.